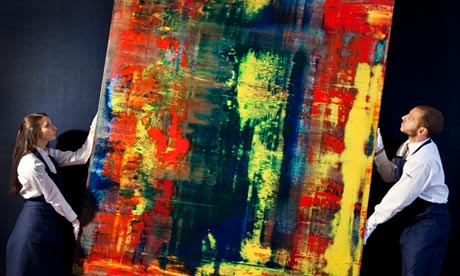 There's never a shortage of material ripe for ridicule in the post-modern abstract art world but it isn't often that we get a nearly daily dose of pretension from the inhabitants of planet absurd. Shortly after a Mark Rothko joke is purchased for a colossal sum and shipped off to impress the bib overall-clad woodsmen and their aproned partners in Arkansas,
another Rothko is defaced
at the Tate in London. Now guitar legend Eric Clapton has put 25% of his 2001 $3.4 million purchase of Richter art up for sale and that item, pictured above, has been auctioned off to an anonymous bidder for US $34.2 million. Here we see the German master actually using his incredibly complicated and subtle techniques to create art that will eventually be worth a fortune.