Junior cycling star Alijah Beatty has returned from her trip to the UCI Junior Track Cycling World Championships in Montichiari, Italy to begin her freshman year at Marian University in Indianapolis as a member of the prestigious Marian Knights cycling team. Soon she'll be competing in the US collegiate national track championships and then it's off to Bergen, Norway for the UCI World Road Championships in the women's U-23 division.
Here she gives us some of her impressions of the competition in Europe:
"My first race was the scratch race (
Wednesday
). I was really nervous just because this was my first world championship event. We started out pretty easy but after about 5 laps it started to get harder. Eventually it became a race of who could just hold on and sprint at the end. I got 8th in the scratch race final.
The next race I did was
Friday,
the Omnium. For this you have 4 races and you get scored for them and at the end of all the races you get an overall score and that is what they go by to determine the omnium winner. But first we had to do a 30 lap point race qualifier so that we could eliminate people so there wouldn't be as big of a field on the track at one time. The qualifier went great. I lapped the field with a girl from Barbados. I ended up 2nd in the qualifier.
The first official race for the omnium is a scratch race. I ended up 11th in the race. The second race is a tempo race. This race gives points every lap to the leader of that lap. I was sitting in 7th place when two girls went down in front of me on corner 4. There was nowhere to go and I hit them both and crashed out. I had hit my head and my hip pretty bad and it was hard to get up and walk on my own. I ended up going to the ER to get X-rays. I didn't break anything! but was unable to finish the rest of the races for the omnium.
The last race I had scheduled to race was the points race. After crashing the day before in the omnium I wasn't sure that I would be up to race. After getting on the trainer and working my muscles I felt good enough to race and wanted to represent my country. So I was put in the race. On our neutral lap the officials told us to slow down because a girl had missed the start. So we slowed down and on the first corner we were going so slow that we had our first crash of the race. Little did we know that we would have 4 crashes in the whole 80 lap race. I was involved in the 2nd crash.
I crashed twice
within 24 hours
and I was in so much pain. But we were already half way through the race so I decided to get back on the bike and finish the race. I ended up 15th in that race and felt pretty good about it due to how much physical pain I was in. That race definitely messed my my mental capacity also. Having the crashed and having been in two I really just wanted to get off of the track.
All in all it was a fun time and the coaches taught me a lot about gearing and warm-up/ cool down and I feel that I am ready to go to worlds again."
We hope that her future racing experiences aren't quite as painful as her Italian ones.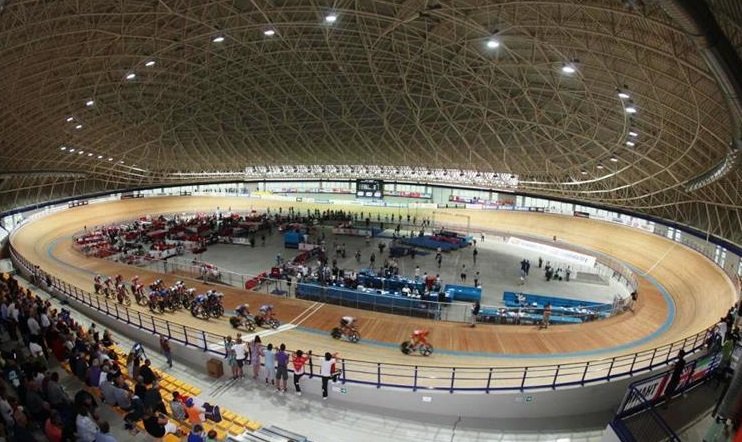 Velodromo di Montichiari, Montichiari, Italy