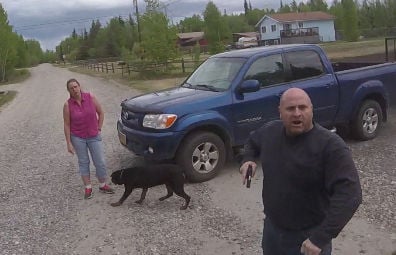 A group of ATV riders were accosted by an angry individual who attempted to wrestle one of the machines away from its rider, went back to his truck for a gun and badge, and forced the rider down to the ground at gunpoint. When cops arrived the unarmed rider was arrested and charged with assault while the prison guard gets some time off from work.
http://www.newsminer.com/news/local_news/atv-rider-charged-after-confrontation-with-off-duty-corrections-officer/article_51b3fdd8-71d3-11e7-8171-dfc5912d63e8.html
Perhaps it's no big deal if a member of the coercion complex straightens out a situation. Maybe it's a good thing that guys like this are willing to do their part to maintain order. Or, maybe not.
Addendum: According to an
Aug. 4 entry
on the News-Miner website, charges against the ATV rider have been dropped. The prison guard has not been charged.
Braeuer, who worked at Fairbanks Correctional Center since 2006, was placed on administrative leave May 30 after the Department of Corrections learned of the incident. He has since left the agency, and his last effective day was July 28, said DoC public information officer Megan Edge.
Edge declined to comment on the circumstances of Braeuer's departure from the department, citing confidentiality rules.